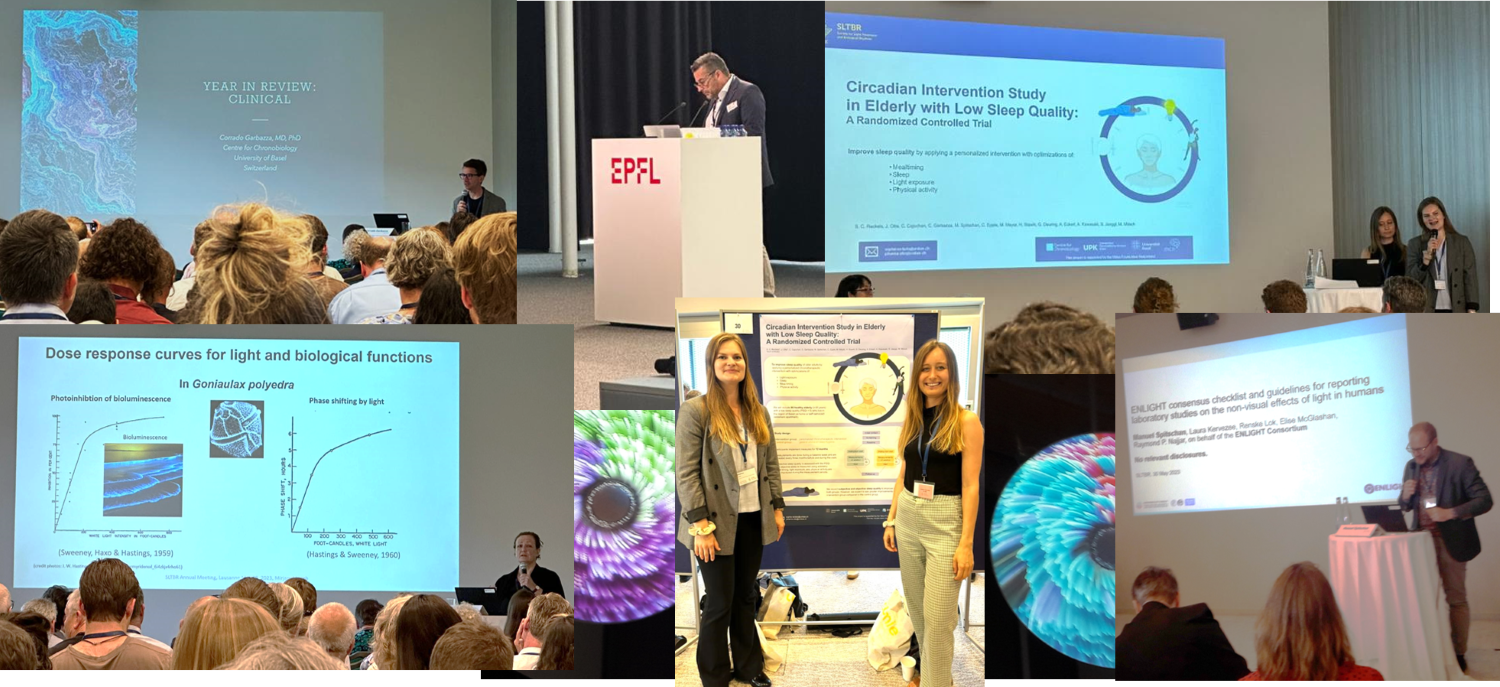 Vom 30. Mai bis zum 1. Juni 2023 nahmen wir am 34. Annual Meeting der Society for Light Treatment and Biological Rhythms (SLTBR) in Lausanne teil.
iHCDP Director Prof. Dr. Christian Cajochen ist gleichzeitig der Präsident der SLTBR. Das iHCDP-Team war mit einer Vielzahl von Beiträgen vertreten:
Als Vortrag stellte Prof. Manuel Spitschan die «ENLIGHT consensus checklist and guidelines for reporting laboratory studies on the non-visual effects of light in humans» vor.
Dr. Mirjam Münch gab einen Vortrag über: «Non-linear relationship for reaction time and melanopic EDI – Is there an optimum for office lighting? ».
Dr. med. Dr. sc. med. Corrado Garbazza, Vizepräsident der SLTBR, gab in der Kategorie «Year in Review» ein mündliches Update im Bereich «Clinical».
Die beiden iHCDP Doktorandinnen Sophie Reckels und Johanna Otte stellten das Protokoll der laufenden Studie «Circadian intervention study in elderly with low sleep quality: A randomized controlled trial» als Poster vor.
In der Kategorie Fundamental Science zeigte iHCDP Doktorandin Niloufar Tabandeh ebenfalls ein Poster mit dem Titel «Physiologically-relevant multi-modal characterization of natural scenes across time, space and spectrum».
Prof. Manuel Spitschan präesentierte zwei weitere Poster: «Selecting, implementing and evaluating control and placebo conditions for light therapy and lightbased interventions: An α-opic framework» und «Photic sneezing in response to naturalistic and parametric light stimuli: A protocol and pilot study (n=1)».
Wir verliessen Lausanne mit vielen neuen Eindrücken und freuen uns auf das nächste SLTBR-Meeting, das 2024 in Prag stattfinden wird.